TNCBH 2017-2018
Curated by: Memorymorph [Małgorzata Łuczyna, Jacek Złoczowski]
in collaboration with: Grzegorz Łuczyna (Interface development) and Galeria BWA (production)
TNCBH is a site-specific project created for TANCEBA exhibition in Galeria Bielska BWA in 2017. Its subsequent edition was developed for MiastoMOVIE Festival in Wrocław in 2018. Both the exhibition title and project name refer to the Hebrew acronym "ת.נ.צ.ב.ה" [TNCBH], an abbreviation for a tombstone inscription loosely translated as "May his / her soul be preserved in the memory of the living". Between 1881–1939, the address of BWA Galeria Bielska belonged to Bielsko-Biała's synagogue, which was destroyed by the Germans during World War II. In the 1960s, the gallery building was erected on the rubble site. The exhibition served as a case study of sorts, examining the location's identity-building process and the roles that historical context, stratification of new meanings and functions as well as types or relationships and tensions between the aforementioned meanings play in its creation.
For the purposes of this net-art piece, the artists employed 3D scanning, modelling and morphing techniques, Google Street View and software for stitching spherical panoramas. The artwork functions in two realms: a virtual one accessible through an online app and a material one through a mural in the form of a QR code created on the BWA gallery rooftop.
Through morphing, the artists visually confronted two completely separate and incongruous 3D models: that of the BWA gallery and the synagogue. As the irreconcilable differences between the models made it impossible to smoothly morph them together, the gallery building had become deformed. The resulting 3D model was integrated into images used by Google Street View so that anyone using the app to take a virtual stroll around the gallery's location would be able to witness the gradual morphing – or rather, deconstruction – of the edifice. A popular Google app becomes a platform for a doomed-to-fail showdown between two buildings, two architectural orders and two cultural symbols.
To conclude the process, a QR code was generated to link to the project's website and reproduced as a mural on the rooftop of the gallery. Thereby, future users of Google's satellite maps will have the opportunity to reach the site.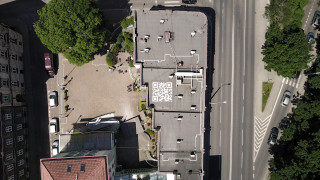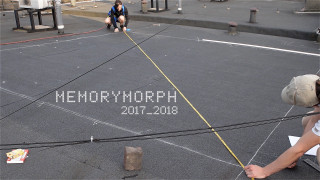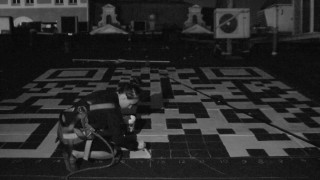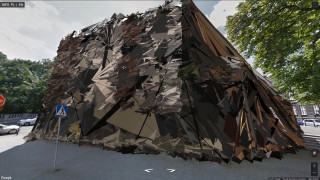 Get to know more about Polish digital culture. Discover the creators and their projects.